Win Frag's F*cked up award
---
Frag's F*cked up award goes to only web sites that are built on

an origional idea that can be described by no other words than "thuroughly

F*cked up."
---
If you think your site can win this award then you can aply via Email

or if you like you can use the Gab Table.

I would put up a javascript form but to be honest I'm not that good with javascript.
---
Remeber, this award goes only to very origional websites.

No they don't have to fanfic sites. In fact most of the winners won't be.

I also award non aplicants that I may surf by if the site is good enough.

Well enough chatter. Here's what the award looks like minus the word "void"

written all over it. Not like anyone's going to steal it though.

The Home for Unwanted Fanfics presents...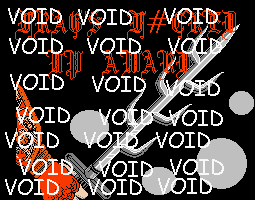 Frag's F*cked Up Award.
For most F*cked up origional website
---
Award winners